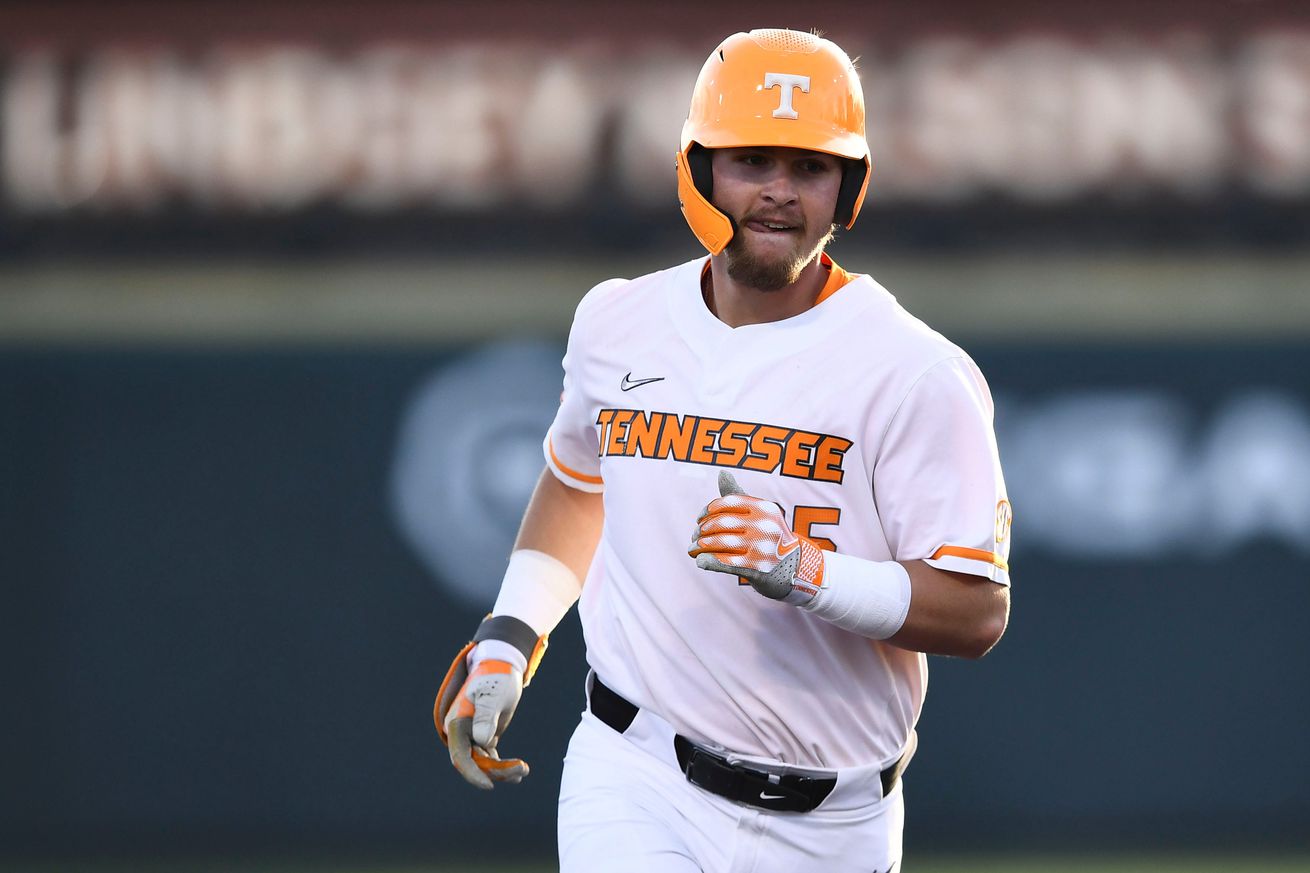 Very refreshing to see the offense wake up after its starting pitcher struggled a bit early
The start of Friday's game felt similar to last week, when Tennessee's No. 1 starter Chase Dollander gave up multiple runs in the first inning. I got nervous.
But this Friday, back home, the UT offense answered early and often, and the Vols won their first game of SEC play 10-4 against Texas A&M.
Dollander's issues to start the game were mostly self-inflicted: he walked the first two batters, the leadoff man stole second and then advanced to third on a passed ball.
A&M three-hole hitter Jack Moss singled home the leadoff hitter, and the second walk scored on a balk. But instead of giving up four in the first like he did last week, Dollander went immediately into damage control with a pop-up out and two Ks to end the first.
The Volunteer offense got outscored 23-6 in the opening series against Missouri, but busted out five runs in the bottom of the first to give Dollander some much-needed backup.
Maui Ahuna kicked things off with a leadoff-single, then Christian Moore grounded out to second but notched his 17th RBI of the year as the play scored Ahuna. Blake Burke got hit by a pitch, Zane Denton walked and then Jared Dickey, who started at catcher and batted fifth, singled in Burke with a liner to left field. Kavares Tears, one of the youngsters this team is counting on for production, followed Dickey's single with bases-clearing double to give the Vols the lead. Tears absolutely ropes this into the wall in right-center field.
Hunter Ensley capped off the bottom of the first with his own RBI double, plating Tears and making it a 5-2 lead for Tennessee going into the second.
Dollander allowed one more run in the top of the second, but then gave up just one hit, no runs, no walks and struck out five until Vitello pulled him for Seth Halvorsen with one out remaining in the seventh. Overall — Dollander went 6.2 IP, allowed three runs on three hits, with two walks, a balk, a hit-by-pitch and eight strikeouts. The shaky start skewed the numbers a bit, but in the end, 65 of Dollander's 103 pitches went for strikes. Here's some high heat from the fifth — 97 on the gun:
As Dollander was finding his groove, the offense was doing the same. Ahuna led off the bottom of the second with a double, and Moore brought him home with a single up the middle. Moore advanced into scoring position on a Burke ground-out, then Zane Denton plated Moore with a single down the left-field line.
A&M kicked off the third with a leadoff single, but Tears made a spectacular diving catch in right and doubled off the man at second for an inning-ending double play.
Tears attempted a diving catch in the first, and it ended up turning a single into a triple, but he made up for it here with the catch at the wall. Tears had two diving catches in the game, and Ensley had a nice grab in left early in the game. Nice to see the athleticism in the outfield paying dividends. Tear's double-play, diving catch in the third stone-walled any A&M momentum.
Jared Dickey followed a leadoff walk from Denton in the fifth with a single, then both men advanced on a wild pitch. A&M got a Griffin Merritt fly out, but another wild pitch scored Denton, then Tears got his third RBI of the game on a sac-fly to center that plated Dickey. After five innings, Tennessee led 9-3.
After an 0-10 performance in the Missouri series, Burke reminded everybody what a monstrous home-run hitter he is with a lead-off home run in the seventh that scorched over the right-field wall.
Burke waited on it, the pitcher caught too much of the plate and Blake Burke did what he does. He's first on the team in hits, home runs, RBIs and slugging percentage, then he's second on the team in batting average and OPS. Monster.
Tennessee used just two pitchers against A&M, as Halvorsen had the heater going in the mid-to-upper 90's and got the second out of the ninth on a changeup that was just so, so filthy. He finished the night with 2.1 IP, allowing no hits and an unearned run from a leadoff walk in the eighth that ended up scoring due to a Blake Burke throwing error. He struck out one, had the one walk and tossed 24 of 40 pitches for strikes.
The Vols finished with two errors — one on Burke and another on Ahuna. Tonight was Maui's first error of the year, but it marked Burke's fifth over at first. Most knew UT would miss Lipcius' vacuum glove, but however much praise Luc got for his defense last year — it wasn't enough.
We saw Tears pull up a bit lame running out an out to first, so let's hope everything's okay there. He led the team with three RBIs on a 2-2 night and played fantastic defense in right field.
UT's 1-7 in the lineup did all the damage, combining for nine of the Vols' 10 total hits and nine of their 10 total runs. Tennessee made two errors, and Christian Moore got called out at second for leaving the bag on his slide, so there's work yet to be done. But the offense stranded just three runners and bailed Dollander out of a shaky start. It looked like a totally different team than what we saw against Missouri.
One last note: Jared Dickey behind the plate leaves Christian Scott in center, and he went 0-4 tonight and is hitting around .217. He stranded two of the Vols' three runners who got left on base.
First pitch for game two on Saturday is at 12 PM, with Chase Burns getting his usual Saturday start.