It's hard to believe that a player who was named to the all-star game just last year would still be sitting on the free-agent market at this point in the offseason, however, Anthony Duclair remains one of the top names in free agency who hasn't found himself a home one month into it.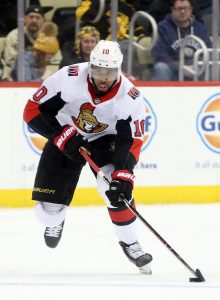 On the surface a 25-year-old all-star unrestricted free agent is a rarity as most big-named free agents are older when they hit UFA status the first time. Of course, much of that is due to the fact that the Senators did not qualify him, leaving him a free agent. Regardless, Duclair is coming off a great season in which he tallied 23 goals and 40 points in his first full season in Ottawa and looked prime to sign a long-term deal with the Senators this offseason. On top of that, he is also a fast skater, placing sixth in the fastest skater contest at the all-star game last year. However, Duclair struggles significantly in one area that could be keeping him from being signed — his defense. He is a goal scorer first, and there is a significant step back on his defensive efforts, one that former Columbus Blue Jackets' coach John Tortorella mentioned before the team traded him to Ottawa back at the trade deadline in 2019.
Strangely enough, however, despite the belief that Duclair would dominate on the power play and not even play on the penalty kill, it's the exact opposite. Duclair struggled on the man advantage at times during the season, while actually providing solid play on the Senators' penalty kill, which makes things even more confusing.
However, another fact that stands out is that Duclair dominated the first half of the NHL season, scoring 21 goals and 33 points in 47 games. While the second half of the season was suspended, he only tallied two goals in 19 games following the all-star game, a significant drop off, making him one of the more unique players with little consistency.
Potential Suitors
While many people figured that Duclair had a good chance to sign a long-term deal with Ottawa this offseason, that never materialized. Duclair fired his agent and opted to represent himself. He was supposedly offered a two-year deal at $3MM AAV and turned that deal down, believing he could get more on the open market. However, no deal has materialized in this depressed market and now with Ottawa having brought in Evgenii Dadonov and Alex Galchenyuk, it's extremely unlikely that the Senators will bring back Duclair even if he accepts a lesser contract.
Other teams still may be interested, although a deal is likely to come closer to when training camps begin. There are a number of playoff teams that might be interested in bringing in the 25-year-old as a second or third-line option on a short-term deal, but Duclair might have to accept less from those teams than the deal that Ottawa offered in the first place.
The Nashville Predators, who are looking for more firepower for their team, have been mentioned as one team that is looking at both Mike Hoffman and Duclair as options, although Hoffman could be the team's first choice. However, Duclair might be a good fit, who could battle for a spot on the team's second line there.
Other playoff teams like the Boston Bruins, the Dallas Stars or the Colorado Avalanche as options, but many of these teams might be more likely to look and see what they have in training camp before bringing in Duclair.
Projected Contract
Representing himself may have been a mistake as the forward now may be forced to accept less than the two years at $3MM AAV that he reportedly declined earlier in the offseason. He will almost assuredly will have to accept a deal with little term, either a one or two-year deal, but may have to take something significantly less than what he rejected in the first place.
Photo courtesy of USA Today Sports Images.