The Nashville Predators locked in Juuse Saros this week to a four-year, $20MM contract, but the work doesn't end there for GM David Poile. The executive told ESPN radio that the focus will now turn to an extension for Mattias Ekholm.
Now that we're past the Juuse situation, we're going to turn our focus now to Ekholm. I actually spoke with his agent yesterday afternoon and we're going to talk either later this week or next week on that.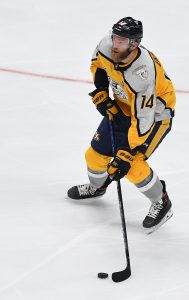 Ekholm, 31, is heading into the final season of his six-year, $22.5MM contract signed in 2015 that turned into one of the best bargains in the NHL. Originally a fourth-round pick in 2009, Ekholm has been a key member of the team's blueline since 2014 and has averaged at least 22:52 in each of the last five seasons. This year he had 23 points in just 48 games and is part of the reason why someone like Ryan Ellis was deemed expendable this offseason. The Predators moved Ellis to the Philadelphia Flyers in a deal that cleared some cap and added some more young forward talent, but still have Ekholm and captain Roman Josi to anchor the back end.
While Josi is locked in long-term, Ekholm would be one of the top free agents if he hit the open market next summer. An extension would likely have to include a substantial raise on his current $3.75MM cap hit, with a contract like Jake Muzzin's recent four-year, $22.5MM deal being an easy comparable. The fact that Ekholm will be 32 whenever his next contract begins is a big factor, but he has shown no real signs of slowing down to this point. The Predators have three depth defensemen–Mark Borowiecki, Matthew Benning, and Ben Harpur–all coming off the books after this season, which could free up a little bit of space depending on their replacements. The trio currently combines for $3.8MM.
There's another big fish in Nashville scheduled for unrestricted free agency after this season though, as Filip Forsberg will be reaching the end of his six-year, $36MM deal. Poile also explained the team's gameplan on an extension with the 27-year-old forward:
Shortly before training camp we'll reach out to Filip Forsberg and his camp to sort of get a lay of the land as where Filip's thoughts are right now. Those are the next two priorities.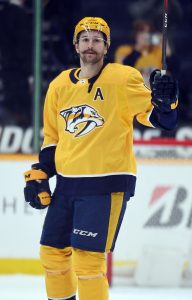 Once again, Forsberg was a driving force behind Nashville's offense (such as it is), scoring 32 points in 39 games. Incredibly, that was actually the most by any forward on the team despite him missing a good chunk of the season, showing just how important Forsberg is to the team overall. Nashville is basically running it back with almost the same group up front this season after only really bringing back Mikael Granlund in free agency, though several young players should be given a bigger role. Newcomer Cody Glass joins Eeli Tolvanen (who does not yet have a contract as an RFA) and Philip Tomasino as the team's net wave of forward talent that could really tip the scales toward contending again.
It's Forsberg though that will need to be the focus in a few weeks, as relying on the development of those young players without a consistent offensive player like him in the mix will be a difficult task. Ryan Johansen and Matt Duchene have both been huge disappointments thus far, Viktor Arvidsson was traded this offseason and even Calle Jarnkrok, who finished second among all Nashville forwards this year, was lost to the Seattle Kraken in the expansion draft. Losing Forsberg in free agency would create a giant hole up front similar to the one Ekholm would leave on the back end, meaning these two negotiations are extremely important if the Predators want to stay competitive in the short-term.