With the offseason in full swing aside from the two teams in the Stanley Cup Final, it's time to examine what each squad will need to accomplish over the coming months.  Next up is a look at the Predators.
This was supposed to be a season of transition for Nashville.  At least, so it seemed.  They got weaker on paper over the summer and it looked to be the start of at least a small rebuild.  However, several underachieving veterans had bounce-back years and the end result was the Predators making the playoffs and then being swept by Colorado.  GM David Poile likes the term "competitive transition" as it relates to the state of his team so their checklist this summer keeps that in mind.
Add Impact Pieces
With the Predators looking to stay in the playoff hunt, they'll need to put their cap space to good use this year.  With over $23MM at their disposal, they have some room to add a key player or two even after re-signing their own free agents.
Up front, their top six is still fairly thin with several question marks.  Matt Duchene had a career year with 43 goals and 43 assists.  At the age of 31, can he repeat that type of performance or was this just a season where everything went right?  Ryan Johansen had his best season since coming to Nashville back in 2016 while Mikael Granlund was only a few points shy of matching his career-best.  There is a question of sustainability for all three of those players and even if there wasn't, another top-six forward to fill the role vacated by Viktor Arvidsson following his trade last summer is needed.
There was a time when Nashville had the best defense corps in the NHL.  That isn't the case anymore.  Instead, the average fan would have a hard time naming anyone beyond Norris finalist Roman Josi and steady veteran Mattias Ekholm.  It's not a particularly deep group and a top-four rearguard to push one of Dante Fabbro or Alexandre Carrier onto the third pairing alongside the recently-extended Jeremy Lauzon would go a long way towards shoring up that unit even if it doesn't bring them back to the days of being the best group in the league.
Do these moves alone vault Nashville into contender status?  No, but if they want to stay where they are or give themselves a shot at moving up a bit in the standings, these would certainly help their chances.
Re-Sign Forsberg
Duchene wasn't the only veteran to have a career year this season as Filip Forsberg did as well, notching 42 goals and 42 assists despite missing 13 games due to a stint in COVID protocol and an upper-body injury.  There's never a bad time to set new benchmarks but the year before hitting unrestricted free agency for the first time is certainly a great time and that's what Forsberg did.  The two sides engaged in talks off and on during the season but couldn't reach an agreement and Poile held off on trading him at the deadline.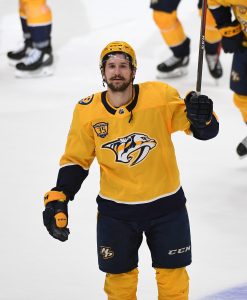 This is one of the most important contract negotiations in franchise history.  Forsberg has been a fixture in their lineup for eight years and the possibility of him jumping ship to another team less than a month from now has to be concerning.  It would certainly go a long way towards derailing their competitive transition.  Forsberg's camp knows this and will try to wield that in discussions.
As for what the cost of a new deal will be, it won't be cheap.  Forsberg is coming off a six-year, $36MM deal and as a 40-goal scorer, he can command considerably more than that; a contract in the $8MM to $9MM range should be achievable for him.  On top of that, a max-term agreement is certainly doable as well.  For Nashville, that's eight years as long as it's done before the start of free agency and seven years for everyone else.  Forsberg turns 28 this summer and a max-term deal for a winger coming off a career year that will make him the highest-paid forward on the team is not an ideal combination for the Predators but it's one they'll have to bite the bullet on to keep him in the fold.
Bring In Goalie Depth
With Juuse Saros, Nashville has their starter in place for the next three seasons on a below-market contract.  With Yaroslav Askarov, they believe they have their future starter in place.  Most teams would love that combination but the Predators still have some work to do between the pipes.
Poile brought in David Rittich to serve as Saros' backup this season with the hopes he could rediscover his form from a few years ago.  That didn't happen as he had a save percentage of just .889 in 17 appearances.  With Saros injured for the playoffs, Rittich faltered quickly, forcing head coach John Hynes to turn to third-stringer Connor Ingram who had all of three career NHL appearances up to that point.  Rittich is unlikely to return and while Ingram is on a one-way deal for next season, are the Predators ready to make him their backup?
If not, they'll need to turn back to the free agent market and instead of looking for a low-cost option, they would be wise to aim a little higher and get a more proven second option to take some of the pressure off Saros and give them some extra injury insurance.  On the other hand, if they do want to go with Ingram, then adding a veteran third-string option becomes a must.  Askarov will play his first full season in North America next season and adding a veteran that can be called up as the backup when injuries hit to not interrupt Askarov's development would be a wise move.  Either way, Poile will be goalie shopping next month.
Utilize An Unlikely Trade Asset
When Nashville dealt Ryan Ellis to Philadelphia last summer, they hoped that Philippe Myers would be a capable replacement.  Let's just say that didn't happen.  Instead, the 25-year-old struggled mightily when he was in the lineup, was a frequent healthy scratch, and cleared waivers before the trade deadline.  From there, they didn't even bother sending him to their own AHL affiliate as he was loaned to Toronto instead.  And yet, despite all of that, he is one of Nashville's more intriguing trade chips this summer.
Myers has one year left on his current contract at $2.55MM which, for someone that can't crack an NHL roster, seems like the type of deal teams should be doing their best to stay away from, not acquire.  It's a lock to be bought out.  But his contract is heavily backloaded and since he's only 25, the buyout cost is one-third instead of the usual two-thirds.  The end result is that whoever buys him out this summer will receive a cap credit of $617K.  Yes, a team could increase their cap space next season by buying Myers out while they'd only have to eat a $633K cap charge in 2023-24.  Who could use some extra cap space this summer for a total cash outlay of $633K?  The short answer is a lot of teams.
There isn't much precedent for a trade like this.  Toronto picked up Jared Cowen from Ottawa in 2016 who was in that situation but it was part of a nine-player swap which makes it difficult to ascertain his standalone value in that deal.  But with a lot of teams looking for cap space, it stands to reason that Myers will actually have some value this summer.  Even if it's only for a mid-round pick in the end, getting an asset for someone that's clearly on his way out the door would be a good way to start Nashville's summer roster movement.
Photo courtesy of USA Today Sports Images.  Contract information courtesy of CapFriendly.