As teams are eliminated from the Qualifying Round, it means that the offseason has arrived for several more squads.  Having covered the teams that weren't a part of the NHL's return, we shift our focus to the ones that have been ousted.  Next up is a look at Nashville.
After a disappointing finish to what was a strong 2018-19 season when they were ousted by Dallas in the first round, the Predators opted to spend less on their back end and attempted to bolster their offense with the addition of Matt Duchene.  The results didn't go as planned.  Instead, Nashville once again featured a middling attack and the change behind the bench to John Hynes instead of Peter Laviolette didn't change much.  When the pandemic hit, they were battling for the final Wild Card spot in the West and they didn't perform particularly well in their Qualifying Round loss to Arizona.  Now three seasons removed from their appearance in the 2017 Stanley Cup Final, GM David Poile has some work to do.
Make Way For Youth
If it seems like the Predators have been a veteran-laden squad lately, it's because they have been.  Even as core veterans have been moved out, they've been replaced by other high-priced veterans.  As a result, they were one of the oldest teams in the league this season and when the play-in round hit, only one regular under the age of 25 was in their lineup and that was defenseman Dante Fabbro.  At a time where the league is getting younger and quicker, Nashville has been heading in the opposite direction.
That's something that Poile seems to be acutely aware of as during his end of season availability from the Predators' team site (video link), he mentioned half a dozen prospects that he expects to push for a roster spot next season, highlighted by Eeli Tolvanen up front and Alexandre Carrier on defense.
However, of their 12 forwards they used in the playoffs, 10 are already signed for next season and the two that are set to be unrestricted free agents (more on them shortly) will either need to be retained or replaced.  Poile may need to turn to the trade market to move out some of his forward depth and open up a spot or two for those youngsters to contend for.
Shake Up The Top Six
Poile has made no shortage of attempts to try to bolster his forward group in recent years.  Duchene was added last summer, Mikael Granlund at the 2019 trade deadline, plus Kyle Turris in a 2017 swap and Nick Bonino months before that in free agency.  Ryan Johansen in 2016 was the biggest one of all in what was a big one-for-one swap with Seth Jones going the other way.  Every move made some sense at the time but it's safe to say that none of them have panned out as intended.
All of these additions were only good enough to get the Predators to 17th in the league in scoring this season with only a couple of tenths of a goal more per game than 2018-19.  Clearly, more work is needed.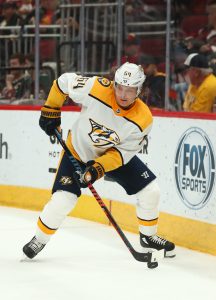 Nashville has a pair of notable unrestricted free agents to deal with in Granlund and Craig Smith.  Granlund played a bit better under Hynes with 11 of his 17 goals coming after the coaching change.  He had a bigger role, logging over 19 minutes a game over that stretch so it's possible that he could be part of the solution moving forward.  Smith, meanwhile, has been inconsistent over his career.  At times, he has been able to play like a front liner but in others, he has struggled considerably.  The two carried a combined $10MM cap hit and that money will need to be spent either re-signing or replacing both players.
If they re-sign one or both of them, Poile would still benefit from doing something to shake up the composition of their top six.  There's an argument to make that every one of their top forwards underachieved offensively this season.  It's possible (if not probable) that some will rebound next year but finding a different player or two that better meshes with the returning core could help unlock the offensive potential that this group has which is something they need to have happen if they want to get back into contention.
Add Proven Defensive Depth
For the last few years, Nashville has been forced to fill out the last few spots on their back end with veterans that have notable limitations.  The priority had been getting players at or around the league minimum salary such as Yannick Weber, Matt Irwin, and Anthony Bitetto (before being lost to waivers in 2018-19).  While they saved cap space which was important, those players were only able to log a few minutes.
It seems like they're heading in that direction again.  Jarred Tinordi had been a minor league regular for more than three years but suited up for them in the playoffs is already signed for next season.  Ben Harpur, acquired from Toronto near the deadline, is another one with recent minor league time and is also signed.  Steven Santini, part of the P.K. Subban trade last summer, is under contract for one more year but spent most of the season in the minors.  These are players that are best served as injury recall depth, not regulars on the third pairing.
Even if someone like Carrier proves to be worthy of a spot, he may not be ready for more than a limited role.  If he isn't ready, he may still get a spot thanks to his low cap hit.
While Nashville needs to make some room up front for younger players, they need to find a way to have a third pairing that can log more than 11-14 minutes per game.  Ideally, they'd be able to kill penalties, an area that was a problem for the Predators this year as they were last in the West with a 76.06% success rate.  If the league intends to play 82 games next season, it stands to reason that the schedule may be a bit more compressed than usual which will make a more capable third pairing that much more important.  Limited finances or not (depending on what happens up front), shoring up their defensive depth is something they should be looking to accomplish.
Photo courtesy of USA Today Sports Images.