With the trade deadline quickly approaching, we continue our closer look at some of the players who have a good chance of being on the move between now and April 12th.
The last 13 months have been a bit of a roller coaster for Erik Haula.  Last season, he was doing a nice job with Carolina on their third line before he was somewhat surprisingly traded at the deadline a year ago in the Vincent Trocheck deal.  He played out the stretch with Florida and then entered free agency as one of the top options on the market in what was a weak center free agent class.
However, it took quite a while for him to find a place to play, eventually signing in late December with Nashville on what looked a well below-market contract.  Things haven't gone particularly well for him this season – something that can be said for a lot of the Predators' players – and as a result, it looks like Haula will be on the move before the trade deadline once again.
Contract
Haula is on a one-year, $1.75MM contract and will be an unrestricted free agent this summer.  His deal does not contain any trade protection.
2020-21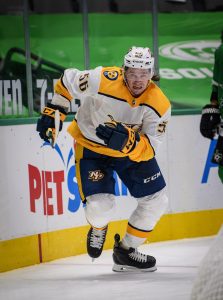 Haula came into the season looking like he'd be a fixture on Nashville's third line behind Ryan Johansen and Matt Duchene.  That's mostly been the case but it's also not a good thing.  Johansen and Duchene have both missed time due to injury and have struggled mightily and yet Haula hasn't been able to take advantage of it with Mikael Granlund instead being moved down the middle.
It's not as if Haula's ice time has been limited by the lack of top-six opportunities at five-on-five either; he's a regular on both the penalty kill and power play and actually sits sixth in ATOI among forwards but with three goals, the production simply hasn't been there.  One thing working in his favor is that he's still winning faceoffs at an above-average clip but that in itself won't be enough to garner a more favorable market this summer.
Right now, he may be viewed around the league as a fourth-line upgrade over someone that can be on a third line.  A change of scenery would give him a chance to potentially rebuild some value by working his way up the lineup and with Nashville on the outside looking in at a playoff spot, it's an opportunity he likely wouldn't mind getting.
Season Stats
26 GP, 3 goals, 6 assists, 9 points, -5 rating, 8 PIMS, 34 shots, 56.3% faceoff wins, 15:35 TOI, 48.4 CF%
Potential Suitors
Searching for affordable bottom-six upgrades is an annual tradition heading into the trade deadline and with so many teams being cap-strapped, there could be even more emphasis than usual on making low-cost incremental upgrades.
In the Central, Florida is a logical landing spot for the second straight year.  Their third and fourth-line centers are still quite unproven at the NHL level and Haula would have the benefit of some familiarity with Joel Quenneville's system from his brief time there a year ago.  The Panthers also have the cap space to absorb the contract without any sort of salary offset which is something that can't be said for some other potentially interested teams.  If Columbus hangs in the playoff race and opts not to sell, Haula would make sense there as well with a fairly weak center group in general.
In the East, the continually-long list of injuries in Pittsburgh makes them a team likely to look for some depth upgrades that can play a bigger role in the short-term and Haula could conceivably slide onto their third line with Evgeni Malkin out week-to-week.  The finances would be a bit tricky, however, with most of their cap room derived from Jason Zucker's LTIR placement but he is expected back before the end of the regular season.  Nashville would need to retain or Pittsburgh would have to send a player back to make the money work.
As for the North Division, Montreal has already been linked to one similarly-priced rental center as they could stand to upgrade on the fourth line while their top two young centers have had some ups and downs this season.  As is the case with Pittsburgh, however, they can't afford him straight up and would need retention to facilitate a move. Unlike others on this list, there's also the two-week quarantine period to contend with.
In the West, Tyson Jost and J.T. Compher's struggles this season should have Colorado looking for a short-term upgrade.  Knowing the contracts that are coming due for next season, any addition would need to be a rental which Haula is and while he hasn't been much better than those two, it stands to reason that a change of scenery to an expected contender may help elevate his game.  In terms of cap affordability, a lot depends on the status of Erik Johnson and Pavel Francouz, both of whom are on LTIR with no certainty for when or if they'll be able to return during the regular season.
Likelihood Of A Trade
With Nashville technically only six points out of the final spot in the Central Division, it can't entirely be ruled out that they opt not to sell in which case Haula will probably stick around.  However, if they continue to be on the outside looking in over the next few weeks, he's a strong candidate to be moved considering his struggles so far while still having a good enough recent track record to make him fit on several playoff-contending teams.
Photo courtesy of USA Today Sports Images.