With the trade deadline quickly approaching, we continue to profile players that have a good chance to be dealt by February 24th.
Last season, the Nashville Predators made a big splash at the trade deadline with the acquisition of Mikael Granlund from Minnesota.  They had been looking for one basically all season long and it wasn't even a rental situation.  Things were looking up, or so it seemed.
Granlund struggled down the stretch and in the playoffs last year and things haven't gone too well for this season either.  Between that and the fact that Nashville needed a couple of wins this week just to stay out of the basement of the Central Division, it seems quite likely that he'll on the move over the next few weeks.  Even if the Predators can stay close to the playoff picture, he could still be on the move due to his rather limited production on the team as his money could be better spent elsewhere.
Contract
Granlund is in the final season of a three-year, $17.25MM deal that he signed back in August of 2017.  The deal was slightly back-loaded as his salary this season is $6.5MM, $750K higher than his $5.75MM AAV.  He will become an unrestricted free agent in July.
2019-20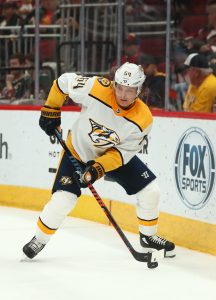 While he has performed better than he did after being acquired, Granlund has still underwhelmed, especially relative to his production in his final years with Minnesota.  Despite playing in the top six basically all season long (including more than two minutes a night on the power play), his point per game output is the lowest of any full season of his career.  The 27-year-old has a well-earned reputation for being a playmaking forward and has recorded at least 31 assists in each full season of his career.  However, Granlund has just eight helpers on the season and has gone more than a month and a half without one.  That pretty much sums up how disappointing his season has been.
Season Stats
44 GP, 10 goals, 8 assists, 18 points, -1 rating, 16 PIMS, 90 shots, 17:05 TOI, 55.3 CF%
Potential Suitors
Despite his struggles since joining Nashville, there will be several teams that look at Granlund's body of work with Minnesota and think that a change of scenery can help get him going again.  That's the good news.  The bad news is that a $5.75MM price tag is going to limit the number of trade options; even if Nashville retains (they can hold back up to 50%), he's still going to be too expensive for some of the cap-strapped contenders.
In the East, the Islanders stand out as a team that would be a good fit.  They are in the bottom ten in the league in goals scored and have a few players capable of scoring more than they have been.  Yes, adding another underachiever into the mix is risky but Granlund's overall track record suggests he'd give them a boost at the very least.  They're one of the only playoff contenders that can afford his contract outright as well.  Lightning GM Julien BriseBois isn't bullish on adding a rental player but Granlund could fit in well with their high-skilled attack in a middle-six role.   And of course, when it comes to making splashes at the deadline, the Penguins can't be counted off though they would need Nashville to retain some money or send a contract or two the other way.  Pittsburgh has a clear vacancy to fill with Jake Guentzel out long term and Granlund is one of the more skilled forwards that's available.
Out West, Flames GM Brad Treliving would prefer to add someone that's signed beyond this season but if that falls through, Granlund would be a nice pickup for their top six and give them some extra skill in that group.  However, the Michael Frolik deal last month doesn't free up enough cap space alone to add Granlund so there would need to be some retention.  The Avalanche are still one of the top teams in the league offensively but they have plenty of short-term cap room to work with and this is a year they should be trying to go for it so don't be surprised if they still look to bolster their attack.
Likelihood Of A Trade
While the return isn't going to be anywhere near what it would have been perceived to be a year ago, GM David Poile has all but certainly decided that Granlund won't be staying past this season and that his money will go elsewhere on the open market.  In this case, getting something is better than nothing, even if they wind up turning around and acting as a buyer to get a short-term replacement for him.  Barring injury or a rapid turnaround, it's hard to envision him still being in Nashville past February 24th.
Photo courtesy of USA Today Sports Images.