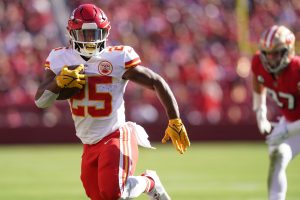 The Arizona Cardinals placed DeAndre Hopkins on the trade block earlier this off-season. While rumours continue to swirl, Hopkins' future remains unclear as ever. The Kansas City Chiefs remain the frontrunners, however, many teams have joined the race for his services.
Recently, it was revealed that it is unlikely that Arizona's asking price of second and third-round picks may not be met. Given Hopkins' salary, 2022 suspension, recent injury history and age, his trade value is now proposed to be nearer what Brandin Cooks fetched (a fifth and sixth-round pick). Hopkins is still a greater asset than Cooks, however, so expect him to yield slightly more than what the Dallas Cowboys paid for Cooks. There is also the issue that Odell Beckham Jr.'s availability is lessening Hopkins' monopoly on the wide receiver market currently.
With that said, Arizona may find it hard to lower their asking price given Hopkins' undeniable talent. Trading away the All-Pro receiver for limited value would reflect poorly on the new regime under Monti Ossenfort. As such, a compromise could be if a player is dealt in exchange for Hopkins. The Cardinals have plenty of cap space and could help a contending team eat some salary in order for a Hopkins trade to go through. There could also be younger, rotational pieces that Ossenfort and Jonathan Gannon are keen to bring in to set the culture in the desert.
Five Players that Arizona Could Acquire in DeAndre Hopkins Trade
Malik Willis
The Tennessee Titans recently joined the Hopkins sweepstakes, and they have some decent trade packages they could offer. In some scenarios, Titans could try and offer up Malik Willis. Willis was drafted in the third round of the 2022 NFL Draft and showed how raw he was last year. Indeed, he was even beaten out of the backup job by Josh Dobbs.
With that said, Arizona could be interested in bringing Willis in. Ossenfort was part of the regime that drafted him. Thus, if Ossenfort remains keen on Willis, he could try and lure him to Arizona to be Kyler Murray's fill-in. Murray suffered a torn ACL and Meniscus during the 2022 season, making his status to start 2023 doubtful. As such, the revamped team could give Willis a go as the starter and bench him once Murray is back. Willis' athleticism means that Drew Petzing can implement a similar playbook as the one that Murray will use. Willis' small rookie contract would also make him an excellent option to be the team's backup quarterback for the next few years.
Ed Oliver
The Buffalo Bills are one of the leading teams in the Hopkins sweepstakes currently. Their cap space makes any trade difficult, however. As such, moving Ed Oliver could make sense. Oliver has a cap hit of over $10 million this year. The Bills can alleviate all of that if they trade him. The young defensive tackle is also in the final year of his rookie deal, meaning the Bills would have to give him a new contract next year. Trading Oliver for Hopkins makes sense, especially considering their win-now mentality. Indeed, given Oliver's age and talent, the team could even demand some draft capital in return. And, to replace Oliver, the Bills could look to the NFL Draft, where they could land some decent talent. Indeed, Jalen Carter could even fall to them in the first round.
For Arizona, acquiring Oliver could be smart. The 26-year-old is a decent defensive tackle and was drafted ninth overall in the 2019 draft. In getting Oliver for the 2023 season, Arizona could give him a year to prove himself before paying him big money as they look to ascend in 2024. After losing Zach Allen to the Denver Broncos in the off-season, rebuilding the interior of their defensive line is a top priority.
Clyde Edwards-Helaire
It seems that Clyde Edwards-Helaire has no future with Kansas City anymore. The former first-round pick was benched for Isaiah Pacheco last season and Pacheco showed his prowess in the Super Bowl victory. Trading Edwards-Helaire would save the Chiefs $2 million in cap space and, given how he was benched, a fresh start would be good. Like Oliver, Edwards-Helaire is in a contract year this year. Moving to Arizona as part of a DeAndre Hopkins trade would give him a chance to establish himself again so that he can earn a contract in the 2024 off-season.
From the Cardinals' point of view, Edwards-Helaire could be an interesting addition. He has shown flashes during his NFL career so far, but has failed to put it all together consistently. The team currently has James Conner as their lead back and could thus use Edwards-Helaire in a change-of-pace role. When the team did this with Conner and Chase Edmonds in 2021, they found a lot of success. Edwards-Helaire would likely take the place of one of the late-round picks in any Hopkins trade. As such, the Chiefs could trade something like a third-round pick and Edwards-Helaire for Hopkins.
Darnay Holmes
Darnay Holmes would be an underrated acquisition from the New York Giants if Ossenfort could pull it off. While Holmes' PFF grade was a shocking 43.7 for 2022, the young cornerback has a lot of NFL experience and managed eight pass defenses and one forced fumble last season. The Giants did excellently to get to the playoffs last year but acquiring Hopkins for Daniel Jones would elevate the offense a lot. The team are also low on cap space currently. By moving Holmes, they would free up around $2.7 million. They could then restructure Hopkins' contract too. With Holmes entering a contract year, this makes sense for the Giants. Like Edwards-Helaire, Holmes likely has equal value to a fifth-round pick.
While Holmes' NFL career has been busy but unspectacular so far, his blend of youth and experience makes him a valuable player to Arizona. The team are in desperate need of a culture change, and getting a young player like Holmes would work wonders. The team also recently lost Byron Murphy Jr. to the Minnesota Vikings via free agency and now only have Marco Wilson and Antonio Hamilton. Holmes would be given a chance to compete and earn a big contract in 2024.
Damarion Williams
The final player that could be part of a DeAndre Hopkins trade is cornerback Damarion Williams of the Baltimore Ravens. The Ravens are in a tricky spot with Lamar Jackson's contract currently. However, getting Hopkins could be a good way to appease Jackson to sign a deal with the team. It is also believed that Hopkins is keen on Baltimore too. Trading Williams seems unlikely, but would be a good sweetener for Arizona. He would only relieve Baltimore of around $300,000 in cap space and is currently slated to be competing for the team's starting role at slot cornerback. After a strong rookie camp last year, Williams was hyped up massively. However, he failed to translate that into any meaningful NFL action. Should Williams be traded, his value would probably be similar to a fourth-round pick. Given Baltimore's lack of picks this year, trading a player for Hopkins might be Eric DeCosta's best option.
On the other side of the trade, Arizona getting Williams could be huge. Williams pays with aggression and fire, two things that Gannon and defensive coordinator Nick Rallis are trying to instil. His ability to play in the slot is valuable too after Murphy's departure. Given Arizona's thin cornerback room, a move to the desert would present Williams a good opportunity to earn starting reps.
The post Five Players That Could be Dealt in DeAndre Hopkins Trade appeared first on Last Word on Pro Football.