Jayon Brown is on track for free agency. But, if the Titans linebacker has his druthers, he'll stay put, as ESPN.com's Turron Davenport writes.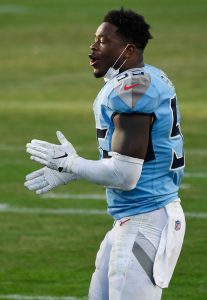 "It would be huge staying with the Titans for another however-many years. I've grown to love the city," Brown said. "The team drafted me, I know the system, know what's expected of me and love the fan base. There's a lot of comfort."
Brown has developed into one of the Titans' defensive leaders since joining the team as a fifth-round pick in 2017. This past season was set to be a huge platform year for the UCLA product. Instead, a complicated elbow injury shut him down in November.
This past season, the 25-year-old finished with one sack, one interception, eight passes defensed, two forced fumbles, and five tackles for loss in ten games. Previous to that, Brown logged a career-high 105 tackles in 2019. In 2018, his first year as a starter, he scored six sacks.
Up until his injury, Brown was on the field for every Titans snap in 2020. He's an integral part of the defense, but he could find more lucrative offers elsewhere. As it stands, the Titans have less than $5MM in breathing room. Meanwhile, they'll have to consider other internal free agents such as wide receiver Corey Davis, tight end Jonnu Smith, and cornerback Desmond King. There's also the matter of defensive end Jadeveon Clowney, who says he wouldn't mind staying in Nashville.
Photo courtesy of USA Today Sports Images.