The Jets may be overhauling their entire offensive line this offseason, they have about $50MM in salary cap space, and RT Jack Conklin looks more likely to hit the open market than be retained by the Titans. We recently heard that New York has expressed "serious interest" in the 2016 first-rounder, and now there is more evidence that Conklin could be headed to Gang Green.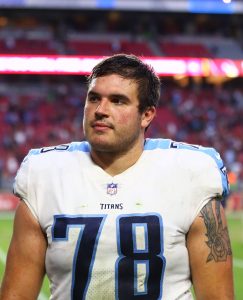 Per Mike Florio of Pro Football Talk, one NFL team has been informed that Conklin plans to sign with the Jets when free agency officially opens on March 18. Florio is careful to put that leak into context, saying that it does not mean that New York has reached a wink-nod deal with Conklin's camp, and it does not even mean that the two sides have talked (though they probably have).
Several days ago, we learned that the Titans would like to strike a deal with QB Ryan Tannehill quickly so that they can then use their franchise tag and transition tag on Derrick Henry and Jack Conklin. But if that doesn't happen, or if the team is prohibited from using both tags as a result of the new CBA, Conklin would probably be the member of that trio to shake loose (plus, if the Titans put the transition tag on Conklin, it wouldn't prevent the Jets or some other team from signing him to an offer sheet that Tennessee wouldn't want to match).
Last May, the Titans declined the fifth-year option on Conklin, which would have kept him under contract through the 2020 season. Now, he is likely to leave the team without one of Tannehill's top protectors and one of Henry's road graders. Conklin graded out as the 15th-best tackle in the league in 2020, per Pro Football Focus' advanced metrics, and he could well land a deal that pays him $16-18MM per year (or more).
If the Jets do strike an accord with Conklin, look for GM Joe Douglas to address the rest of his O-line needs in the draft.
Photo courtesy of USA Today Sports Images.