There's been a few updates with respect to the changes in the Panthers' and Titans' coaching staffs. The largest change so far, of course, is the hiring of Ben McAdoo as offensive coordinator for Carolina. On Monday, NFL Network's Ian Rapoport confirmed that the team has made that hire official (Twitter link).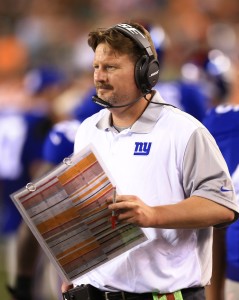 The 44-year-old comes in with a successful background at the OC level, having helped the Giants to top-ten rankings in 2014 and 2015. That earned him the head coaching position in New York, although it certainly didn't end the way he would have wanted. Still, there are high hopes he can turn around a Panthers offense that struggled mightily in 2021, leading to the mid-season firing of Joe Brady.
Meanwhile, Josh Alper of Pro Football Talk reported that Carolina is conducting a second interview with Chris Tabor for the special teams coordinator vacancy. The Panthers fired Chase Blackburn earlier this month, and already met with Tabor, who has previously been a ST coordinator with the Browns and Bears. Unlike the first interview, this one will take place in person. Alper notes that the Panthers had offered the job to current Giants ST coordinator Thomas McGaughey, "but the two sides could not agree on a contract".
As for the Titans, the disappointing loss on Saturday has led to at least four changes on their staff. As Sport Illustrated's John Glennon tweets, the coaches being let go include: inside linebackers coach Jim Haslett, assistant defensive line coach Kenechi Udeze, assistant ST coach Matt Edwards and assistant strength and conditioning coach Mondray Gee. Tennessee finished the year atop the AFC, but lost in their opening playoff game for the second straight season.