With Drew Brees going on the injured reserve, the Saints have brought in a veteran option to fill his roster spot. NFL.com's Tom Pelissero reports (via Twitter) that New Orleans has signed quarterback Trevor Siemian from the Titans practice squad.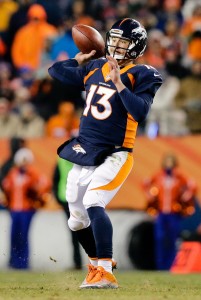 The 28-year-old is joining a backup grouping that includes Jameis Winston and Taysom Hill. Despite the starting experience of the former, it's sound like the Saints will turn to the latter this weekend against the Falcons. Siemian will temporarily serve as extra depth until Brees is eligible to return from IR; the 41-year-old passer is believed to have fractured at least five ribs and punctured a lung, and his placement on injured reserve indicates that he'll be out until at least Week 14.
Siemian, a 2015 seventh-round pick, started 24 games for the Broncos between 2016 and 2017, going 13-11 while completing 59.3-percent of his passes for 5,689 yards, 30 touchdowns, and 24 interceptions. He started a game for the Jets in 2019, but he suffered a season-ending leg injury in that same contest.
He joined the Titans this past offseason, and there was an expectation that he'd be the backup to starter Ryan Tannehill. Instead, he was released by the team prior to the season, and he subsequently landed on Tennessee's practice squad.
Photo courtesy of USA Today Sports Images.