Derrick Henry is coming off his first significant injury as a pro, having missed nine regular-season games before returning for the Titans' divisional-round tilt. But the two-time rushing champion had amassed a staggering lead on the rest of the NFL at the time he suffered the foot ailment; he still finished ninth in rushing last season.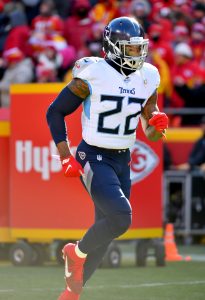 The Titans have Henry signed through 2023, by virtue of the four-year, $50MM extension the parties agreed to just before the 2020 franchise tag deadline. But the team is open to doing another deal with its star running back, Jeremy Fowler of ESPN.com notes.
Although third running back contracts for notable sums are exceedingly rare in the modern NFL, another Henry-Titans pact would help the team create near-future cap space. Henry would also collect some guaranteed money; the guarantees on his current deal ended after last season. A new deal, however, could tag Tennessee with dead money down the road. As is, Henry is attached to $15MM cap numbers in 2022 and '23. The Titans are near the bottom of the NFL in cap space, holding barely $3MM.
Since paying Henry two summers ago, the Titans have opted not to extend Corey Davis, Jonnu Smith and A.J. Brown. Henry and Robert Woods' nonguaranteed contracts represent the only noteworthy veteran salaries among Titan skill-position players presently. Tennessee's post-Brown plan will place pressure on first-round pick Treylon Burks, who will essentially replace the traded wide receiver, and for Henry to keep delivering top-shelf backfield work.
Henry is entering his age-28 season. He compiled workhorse carry totals for the past two-plus seasons, but his first three years — when he spent much of that time alongside DeMarco Murray — kept those numbers down. Henry's per-carry average did drop to 4.3 last season, down from north of five yards per tote in 2019 and '20, and he is sitting on 1,401 career carries (second-most among projected starting backs, behind only Ezekiel Elliott's 1,650). It will be interesting to see what kind of effect Henry's recent handoff counts (303 in 2019, 378 in 2020 and 219 in an abbreviated '21) have on his 2022 form.