A recent report indicated that the Ravens may be the frontrunners for free agent pass rusher Jadeveon Clowney, but the Titans — who, unlike the Ravens, actually offered Clowney a contract earlier this year — continue to lurk.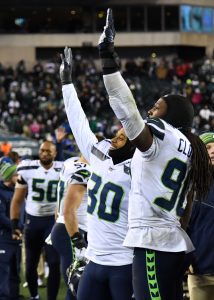 Tennessee GM Jon Robinson said back in July that he was still monitoring the Clowney situation, but he wanted to get the former No. 1 overall pick in the Titans' facility for a physical. So while Robinson may have been willing to bring Clowney in on a fairly low-risk deal without a medical examination, he needs to be assured that Clowney is in good health if he is going to authorize a significant contract.
However, it seems that Clowney has been hard to pin down. In an interview with 102.5 The Game this morning, Charles Robinson of Yahoo Sports said that the Titans are frustrated with the "lack of engagement" on Clowney's part (h/t Joe Rexrode of The Athletic on Twitter). Tennessee still wants to bring him in for a physical, but for reasons that are presently unclear, Clowney — who has posted videos to social media suggesting that he is fully healthy — appears reluctant.
Robinson goes on to say that the Titans or Seahawks, not the Ravens, will be the team to land Clowney. In either case, he will sign a contract worth around $12MM per year, a far cry from the $20MM that he was shooting for at the outset of free agency.
The Titans have always looked like a good fit given the presence of head coach Mike Vrabel — the Texans' LB coach and defensive coordinator during Clowney's first four years in Houston — and given the club's need for another pass rusher. The team did take a flier on Vic Beasley and will return Harold Landry, who posted nine sacks in a promising sophomore effort in 2019, but Clowney could provide a major boost to the Titans' defensive front.
Photo courtesy of USA Today Sports Images.