With the next CBA now up for a vote, the Titans face the prospect of only being able to use one tag. The team has Ryan Tannehill, Derrick Henry and Jack Conklin set for free agency. Some clarity may be emerging on the Titans' navigation plan.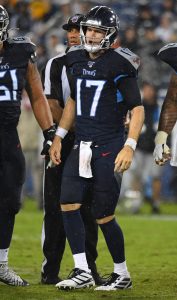 Tennessee brass is planning to ramp up Tannehill extension discussions, in hopes of finalizing a deal before the March 12 deadline to apply franchise and transition tags, Ian Rapoport of NFL.com notes (video link).
This could point to a franchise tag for Henry, the reigning rushing champion. Nothing has emerged regarding Conklin on this front, so the Titans' four-year right tackle looks headed to free agency. The Titans, who have been linked to a Henry tag, are set to have just more than $50MM in cap space.
The Titans and Tannehill began negotiating back in November, but the sides remain apart. The quarterback's former agent said in December that his then-client would give the Titans "every opportunity" to work out a deal, but Tannehill changed agents earlier this month. He's now working with CAA.
It would make sense for the 31-year-old passer to stay in Tennessee, given his belated breakout that helped lift the Titans to their first AFC championship game in 17 years. But the former first-round pick is a key part of this complex quarterback market. During an appearance on PFT Live, Mike Vrabel was tight-lipped about a Tannehill re-up. This comes after a January report indicated the team was not certain about Tannehill's viability as a long-term answer.
Photo courtesy of USA Today Sports Images.