Probably the non-Patriots team most closely linked to Tom Brady, the Titans may be aiming to run it back with the formula that carried them to the AFC championship game.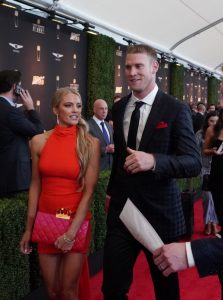 The Titans area focused on extending Ryan Tannehill, with Ian Rapoport of NFL.com reporting the sides continue to negotiate a deal (video link). Tannehill would like to stay with the Titans, per Rapoport.
Tannehill talks have picked back up since the Combine, Rapoport adds, but the sides have been talking since before the regular season concluded. The Titans now have four extra days to try and hammer out a deal, with the NFL moving the franchise-transition tag deadline back to March 16 after previously moving it to the 12th.
Recently, the Titans were trying to extend Tannehill and hope the CBA will not be ratified. That would allow them to use their franchise and transition tags on Jack Conklin and Derrick Henry, respectively. This remains a complex process for the resurgent team. Tennessee currently holds just more than $50MM in cap space.
Last week, a report emerged indicating the Titans were bullish on luring Brady away from the Patriots. But Tannehill talks have unfolded during this will-they/won't-they Brady pursuit. While no door appears closed on Brady, the Titans may be intent on bringing back his longtime AFC East rival. This would certainly narrow the Brady sweepstakes, potentially helping the Patriots' chances of retaining the all-time great.
Photo courtesy of USA Today Sports Images.