The Titans have released outside linebacker Cameron Wake, per a club announcement. In the same press release, the Titans also made official the release of running back Dion Lewis.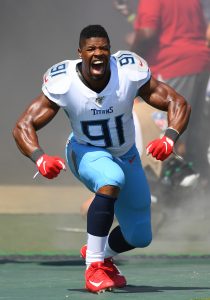 Wake, who turned 38 in January, has previously said that he plans to continue playing in 2020.
"I don't have any plans of giving it up," Wake said late last year. "As long as there is a mutual desire from myself and the organization obviously as well, I'd look forward (to playing here again). It is not even a 'like' it here – I love it here. In the past I knew of guys who had passed through this organization, and now having come here myself, it's an understatement to say how much I enjoy it. I've kind of had the appetizer version of what it is."
"This place checks all the boxes for me," Wake continued. "I am blessed to have been given the opportunity and I appreciate every minute of it. And I look forward to whatever the future brings."
Last year, Wake missed the final stretch of the season with a back injury. Many expected the Titans to drop him this offseason, a move that saves the club $5.6MM against the cap. Combined with the Lewis release, the Titans have saved $9.6MM in total.
Photo courtesy of USA Today Sports Images.