As Brett Kern deals with a wrist injury, the Titans have turned to one of the top punters on the market. ESPN's Adam Schefter reports (via Twitter) that Tennessee has signed Ryan Allen.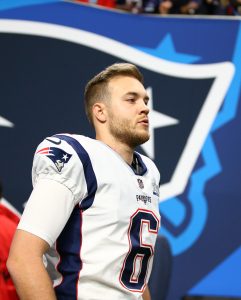 Allen made a name for himself by spending the first six seasons of his career with the Patriots, winning three Super Bowl rings. The Louisiana Tech product was a standout during Super Bowl LIII, with three of his five punts pinning the Rams inside the 20-yard line.
He inked a one-year extension with the Patriots the following offseason, but he ultimately lost his job to rookie Jake Bailey ahead of the 2019 campaign. Allen subsequently signed with the Falcons, and he proceeded to appear in eight games for them during the 2019 campaign. The 30-year-old was cut by Atlanta back in August, and he's been sitting in free agency ever since.
In Tennessee, Allen will be reuniting with former Patriots kicker Stephen Gostkowski, although you've got to assume that Allen's stay with the Titans will be short. After all, Kern is a three-time Pro Bowler, and while his wrist injury will sideline him this weekend against the Bears, he should probably be back before the season ends.
Photo courtesy of USA Today Sports Images.