Jim Schwartz said in January he planned to take the 2021 season off, but the five-year Eagles defensive coordinator appears to have backtracked on that pledge.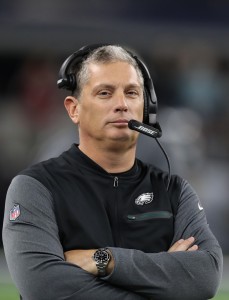 The former Titans DC plans to return to Tennessee, according to Brent Dougherty of 104.5 The Zone and TitanInsider.com's Terry McCormick (Twitter links). Schwartz has an extensive history with the Titans, having worked in multiple positions with the franchise since it rebranded under the Titans moniker in 1999.
Schwartz's initial Titans gig launched him onto the head coaching radar. He worked as Tennessee's DC from 2001-08 and was with the franchise for 10 years prior to accepting the Lions' HC job in 2009. Schwartz was a Titans defensive assistant on their 1999 Super Bowl staff and served as the team's linebackers coach in 2000. That defense ranked first overall, leading to Schwartz's promotion to DC in '01.
Following Dean Pees' latest retirement, the Titans went without a true defensive coordinator last year. The results were not good. Tennessee ranked as one of the worst third-down defenses in modern NFL history and ranked 28th in total defense. The Titans, who offered Pees a role on their 2021 staff, promoted 2020 defensive play-caller Shane Bowen to DC. It looks like he will have some notable help next season.
The Eagles' 2017 Super Bowl-winning defense ranked fourth under Schwartz, and the Fletcher Cox-anchored unit ranked in the top 10 against the run from 2017-19. Just about everything fell off track in Philly last year, but Schwartz has a history of coaxing production. The 54-year-old assistant has popped up occasionally on the HC carousel but has been a defensive play-caller since the Lions fired him in 2014.
Photo courtesy of USA Today Sports Images.