The Titans have agreed to sign Ty Sambrailo, according to a team announcement. The offensive lineman will receive a one-year deal with his third career pro club.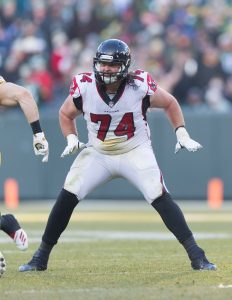 Sambrailo, who was previously with the Broncos and Falcons, figures to slot in as offensive line depth. He's not a world-beater, but his versatility is a plus – he can offer help at tackle while also, potentially, lining up at guard. At tackle, he'll backstop left tackle Taylor Lewan and right tackle Dennis Kelly.
The 28-year-old suited up for 13 games off of the Falcons' bench last year. He also enjoyed a highlight reel moment that he'll never forget – a 35-yard touchdown catch against the Buccaneers to close out the season.
Photo courtesy of USA Today Sports Images.